Welcome to InfinitiQ50.net
InfinitiQ50.net is an owner's support site for the 2014 Infiniti Q50 sedan.



Latest Articles




Stainless Steel Brake Lines

Installation How-To: Tunerzstore.com Stainless Steel braided brake lines onto a Q50 Sport.





Measuring Wheel Offsets

This How-To is an easy way to calculate the offset value of wheels.





2016 Infiniti Q50 Sports Sedan

Infiniti provides review of the new 2016 Q50 Sports Sedan which include, among many changes, new V6 Twin Turbo options and a new Dynamic Digital Suspension.





New Motor Options for 2016

Infiniti announces motor options for the 2016 Q50 including new VR-based 3.0 liter twin turbo which provide either 300 or 400hp.





R2C MaxxFlow Intake Installation

Step-by-step installation how-to: R2C intake for Infiniti Q50





Infiniti Sport Muffler Kit

Infiniti is now offering a new Sport Muffler Kit for all models of its Q50. This system enhances the driving experience by improving the aural notes of the sports sedan, while simultaneously reducing its overall weight by almost nine pounds.





Infiniti Direct Adaptive Steering

Direct Adaptive Steering (DAS) is the world's first production steer-by-wire system, providing new levels of control, precision and adaptability





Rear Splash Guard Install

Step-by-step installation how-to: Installing OEM Infiniti Q50 rear splash guards





Front Splash Guard Install

Step-by-step installation how-to: Installing OEM Infiniti Q50 front splash guards





Tanabe Sustec Strut Bar

Step-by-step installation how-to: Installing a Tanabe strut tower bar on an AWD 2014 Infiniti Q50.





Infiniti Models for 2015

Overview of 2015 Infiniti model year changes. For the Q50 entering its second year the only change is a new Performance Wheel package with 19-inch RAYS superlight forged aluminum-alloy wheels, 245/40R19 front / 265/35R19 rear summer tires.





Infiniti at Goodwood

From the Infiniti Q50 Eau Rouge powering up the Goodwood Hill to the latest models for visitors to enjoy, plus guest appearances by some very special VIPs, Infiniti's presence at this year's Goodwood Festival of Speed over the weekend was a resounding success.





Edmunds

Infiniti announced today that Edmunds.com has named the 2014 Infiniti Q50 among its "Top Rated Vehicles."





Shortlist for 2014 World Car of the Year

Infiniti's new sports sedan, the all-new Q50, is one of the finalists for the 2014 World Car of the Year ("WCOTY") award





Q50 Eau Rouge Concept

The Infiniti Q50 Eau Rouge features bespoke carbon fibre bodywork, Formula One-inspired aerodynamics, a premium cockpit and a powerfully hunkered stance.





Q50 recieves 5-Star rating

The 2014 Infiniti Q50 luxury sports sedan has received an overall five-star safety rating by the National Highway Traffic Safety Administration's (NHTSA) New Car Assessment Program (NCAP).





Direct Adaptive Steering

The editors of Popular Science have selected the all-new 2014 Infiniti Q50 luxury sports sedanís Direct Adaptive Steering as one of 12 Grand Award recipients in the annual "Best of Whatís New" issue.





Unique Sound System

There are 14 high performance speakers in the new Infiniti Q50 that deliver a concert experience right inside of the car. This is the companyís first ever application of Bose Advanced Staging Technology.





Infiniti DEJA VIEW

Online Cinematic Experience Takes Audience Participation to New Heights; Features Characters and Storyline that Dynamically Adapt to Participants' Spoken Interactions.





The Car That Never Forgets

The Infiniti Q50 can remember the personal settings for up to four people - three registered users and one guest - covering the areas of life on board, dynamic performance and safety technology.





Infiniti Steer by Wire

Drivers of Infiniti's all-new mid-size premium car will be the first to benefit from electronic steer-by-wire technology, inspired by latest jet aircraft technology, when the Q50 hits the roads later in 2013.





2014 Infiniti Model Changes

With the introduction of a new vehicle nomenclature for the 2014 model year and the launch of the all-new Q50 sports sedan, the stage has been set for a new generation of Infiniti vehicles and the Infiniti brand itself.





Q50 MSRP

Infiniti announced full U.S. pricing on the 2014 Infiniti Q50 sports sedan, which goes on sale at Infiniti retailers nationwide in early July. The all-new Q50 is designed for a new generation of young, premium customers seeking Infiniti's unique fusion of inspired performance and hospitality.


Q50 Articles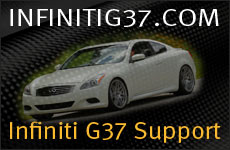 Infiniti G37 Install help
Infiniti G37 Reviews






Archived Articles